 
Probiotic activator for septic tanks, EM11L-8, 0.5L bottle
A powerful EM11L-8 probiotic activator for septic tanks, cesspools & latrines, also used for composting. The 0.5L bottle lasts 18 months.
These are probiotics, used by cleaning companies, they are conserved in a liquid solution (neutral non-toxic product, environment friendly) before being activated.
Used to maintain the right balance of micro-organisms in septic tanks, all-water tanks, cesspools. There can be a spontaneous imbalance between bad and good bacteria; reseeding helps to maintain beneficial bacteria. The treatment keeps deficient installations active (even in the presence of crusts or premature clogging).

Maintains the right balance for the environment.
Instructions for use :

The cap serves as a measuring device. Once a month, pour 3 caps of EM11L-8-WC in the bowl, in the sink, or in the water of the pit (dose for 2000L) ;  0.5L bottle for about 18 doses (or 18 months).

For composting: 3 caps of EM11L-8-WC in 0.5L of water for 500Kg of compost


EM11L-8

Restores biological activity and maintains septic tanks

Prevents clogging and bad smells

Restores biological activity after a long period of non-use
Reduces frequent pumping of the septic tank

Can be used in organic agriculture

Preserves metal and plastic pipes

Has a decalcifying effect on grey water drains.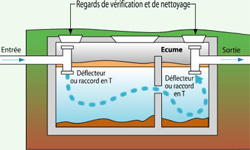 A septic tank is composed of three layers. The upper layer: the scum layer where the organic substance floats on the surface. Bacteria convert this material into liquid. The middle layer: the effluent layer where clear water will be found; this is the only layer that must enter your disposal area. The bottom layer: the sludge layer made of inorganic or inert materials.

Product information

Composition: Bacterial complex based on class 1 aerobic Bacillus strains that have not been genetically modified (non-GMO). No dangerous substances contained in terms of the directive 67/546/CEE and relative classification. Liquid support 100% based on natural ingredients and environment neutral.
EM11L-8 is an ecological product, manufactured and packaged in France.
Customization: we can print a label with the name of your company with the information that you will give us, with BAT (good to print) for the sum of 50,00€ including VAT to be payed with your first order; your following orders will carry this same label.